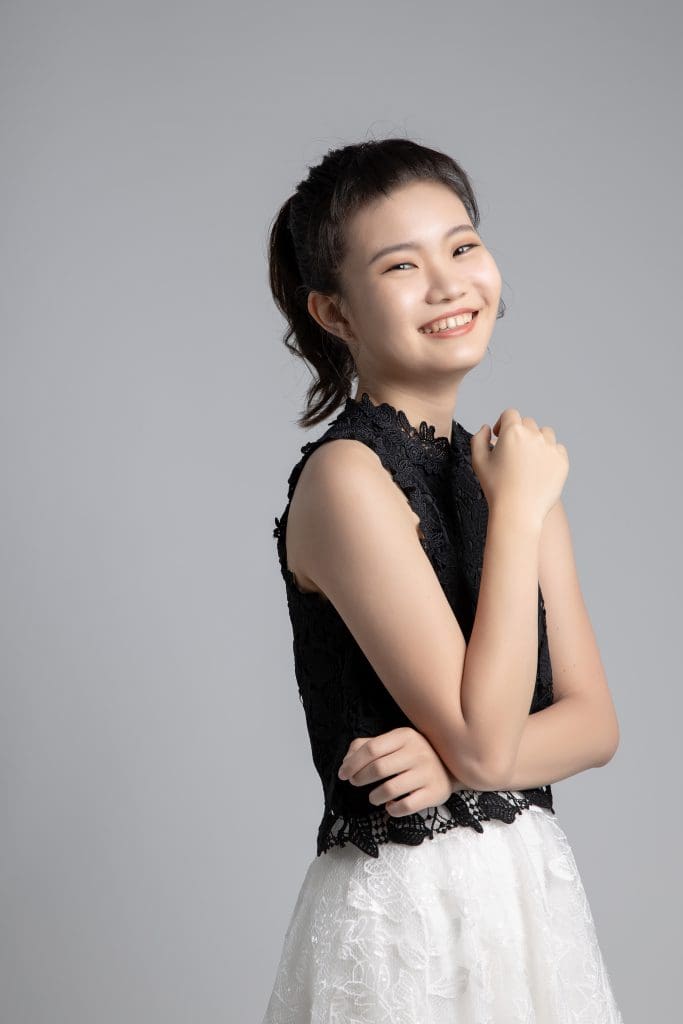 Participant No. 17. Professional category
Hao-Wen Chang. Changhua, Taiwan
Nationality: Taiwan
Age: 20
Country/State/City:
Changhua, Taiwan
Music School ( if applicable ): actual or/and previous:
.Sep. 2019 – present Utah State University Department of Music
.Sep. 2016 – June 2019 Music Talented Class of National Second Senior
High School in Taichung
.Sep. 2013 – June 2016 Music Talented Class of Municipal Shuang Shih
Junior High School in Taichung
.Sep. 2007 – June 2013 Music Talented Class of Minsheng Elementary
School in Changhua
Professor's list ( if applicable ): actual or/and previous:
Dr. Chia-Huei Ai
Dr. Chun-Chieh Yen
Dr. Cahill Smith.
How long have you been playing piano/from what age: since I was 5, 15 years.
Biography:
Haowen was born in Taiwan in 2001. She began studying the piano at age 5 and has studied with Ling-Wei Chuang, Dr. Chia-Huei Ai, and Dr. Chun-Chieh Yen. She was studying in Music Talented School in Taiwan from 2007 to 2019. She is studying in Utah State University Department of Music and learning with Dr. Cahill Smith.
Haowen was a semifinalist of the International Competition in Chiang-Mai, Thailand. She got fourth grade on Hong-Kong International Music Festival, and Preliminary Gold Award of USCI international festival
and competition. In 2020, she won the 1st prize of UMTA concerto competition and has been selected to participate in the Atlantic Music Festival in July. She had her first piano recital in Tunghai University in 2015,
and already have had ten concerts in Taiwan, and won the audition and performed piano duo in Russell/Wanlass Performance Hall in October, 2019.
Haowen has taken many masterclasses and attended in many events. She has performed in masterclasses with Anderson & Roe, Boris Berman, Jerome Lowenthal, Bernd Goetzke, Tai-Cheng Chen, Yaron Kohlberg, and others. She had passed the audition to participate in the International Taipei Maestro Piano Festival and learned from Lina Yeh, Boris Berman, Hee-Sung Joo etc. Attended Music Fest Perugia and learned from Marina Lomazov, Jerome Lowenthal, Ilana Vered, and Myong-Joo Lee. Attended Steinway Festival and learn from Hsing-Chwen Hsin.
Haowen has a passion for music and expect to attend all kinds of competitions and activities to play a variety of tunes to challenge herself.
Repertoire:
Beethoven Sonata No. 31 in A-flat major, Op. 110 mov. I
Scriabin Prelude Op. 11 No. 1, 17, 23, 21, 14, 11, 12, 7
Name and duration of every piace:
Beethoven Sonata No. 31 in A-flat major, Op. 110 mov. I (6 minutes)
Scriabin Prelude Op. 11 No. 1, 17, 23, 21, 14, 11, 12, 7 (9 minutes)