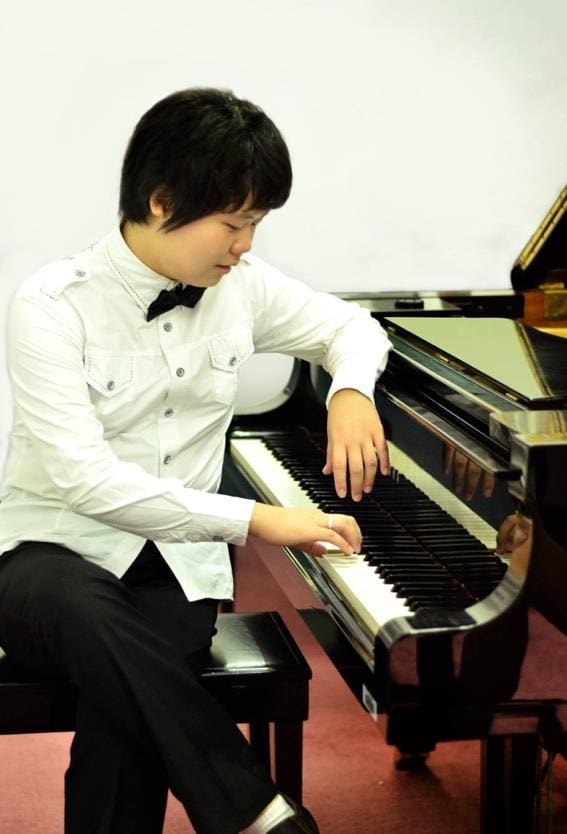 Participant No. 5 Professional category
Hwan Hee Kim. Manchester, Great Britain
Nationality: South Korean
Age: 27
Country/State/City: Manchester
Music School ( if applicable ): actual or/and previous: Royal Northern College of Music
Professor's list ( if applicable ): actual or/and previous: Dr. Adam Swayne
How long have you been playing piano/from what age : started from 7, have been playing piano around 15
years
Biography:
Hwan Hee Kim is 27 and is from Daejeon, a major city in South Korea.
Hwan Hee was born in 1993 in Seoul and started to play the piano at the age of 7 — encouraged by his mother who has a strong love of classical music. He continued playing when he moved for his secondary education to Yantai City, in the Shandong Province of China, developing skills on the piano throughout his six years in China — initially just as an enjoyable hobby.
By the time Hwan Hee was considering applying for a Bachelor's course at University, he had become very interested in taking his piano playing forward as an academic and professional discipline and Hwan Hee was therefore delighted to be accepted for a Bachelor of Music Degree at the University of the Philippines Diliman. He graduated as a Bachelor of Music with Cum Laude Distinction in 2016 and played Piano Concerto No.1 by Tchaikovsky in public as a pianist with an orchestra, as part of his studies, in Manila.
Hwan Hee then moved to Budapest in Hungary to widen his piano playing perspective in a European environment whilst looking for opportunities to make further musical progress in an academic setting. Following advice from an academic contact, he applied and was accepted for a Master of Instrumental Art (Piano) course at the Moscow State Institute of Music (A. G.
Schnittke) starting in September 2018.
Hwan Hee's Dissertation for the Master's course in Moscow examined the introduction of Western style classical music to Korea and how Korean composers blended traditional Korean music and new Western influences in works from the late 19th Century onwards.
He graduated from the Moscow State Institute in the summer of 2020 with his Master's Degree again, pleasingly, with Summa Cum Laude Distinction.
Determined to take his piano playing to the highest possible level, Hwan Hee applied successfully to the Royal Northern College of Music in Manchester, North West England, for their Advanced Postgraduate Diploma course. He is now in his second term of that year long course and thoroughly enjoying the piano playing and musical development.
Hwan Hee has been very lucky to experience strong practical and academic progression with his piano playing and studies over the last 10 years in a range of stimulating and high quality international environments — working with noted piano tutors such as Nita Quinto, Jourdann Petalver, Laszlo Baranyay, Rustam Shaykutdinov and at Royal Northern College of Music Hwan Hee is tutored by Adam Swayne.
Hwan Hee has performed in a number of International Piano Competitions and enjoyed winning both the XXVII International Festival 'Musica Classica' Competition in Moscow and the XV Art Duo International Music Festival Piano Competition in Prague and also coming third in the III
International Competition of the Performing Arts named after Vazha Chachava in Tbilisi in Georgia.
Hwan Hee has established himself as an accomplished pianist in international settings, having performed in public in the Philippines, Hungary, Russia, Switzerland and the Czech Republic and he is looking forward to performing for the final graduation recital in the UK soon.
Repertoire:
Prelude and Fugue No.24 in d minor by D. Shostakovich, Musical moments op.16 No. 4 and 6 by
S. Rachmaninov
Name and duration of every piace: Rachmaninov Musical Moment no. 4 – 3 minutes
Shostakovich Prelude and Fugue No. 24 – 12 minutes
Rachmaninov Musical Moment no. 6 – 5 minutes