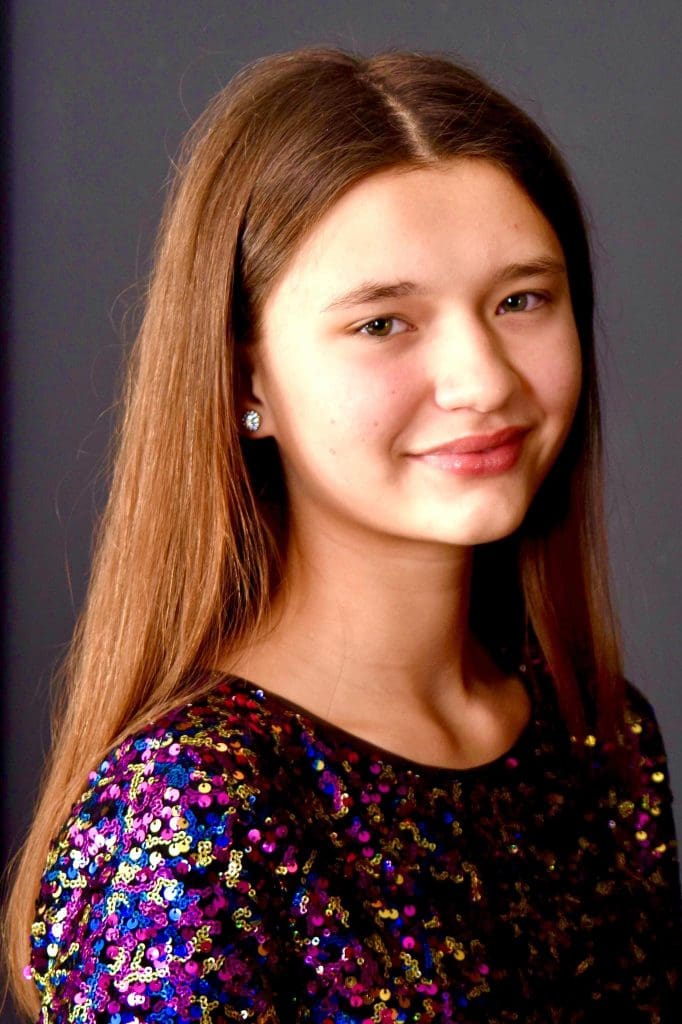 Participant No. 18 Amateur category
Kaja Kasubaite. Lithuania/Ukraine
Nationality: Lithuanian
Age: 12
Country/State/City Lithuania/Ukraine
Music School: Kyiv V.Kosenko music school
Professor: Viktoria Diubenko
How long have you been playing piano/from what age: Since 1 st of September 2015
Biography:
I am KAJA KAŠUBAITĖ, 12 years old. I play piano since the 1 st of September 2015. Actually, I am used to participate in the competitions not in the amateur section, but at the beginning of this school year happened an accident — I have broken my right leg. I had to slow down my musical carrier – already the 3 rd month I am sitting home and am not able to move. But I continue practicing and learning new pieces, even learned to pedal with my left leg, so you can see my efforts in the video. That's why I
am participating in amateur group this time.
And yes, I extremely love contemporary music, where I can open my heart and create new musical images – please listen to my "Stigmatas", hope you will also like it. Concerning my professional achievements, I already gained extensive concert experience and won the titles of many international piano competitions in piano solo and piano duo categories (won competitions in France, Italy, Austria, Great Britain, USA, Russia, UAE, Indonesia, Ukraine, Spain, Serbia, Hungary, Poland, Lithuania, Estonia, Latvia). My list of achievements includes 5 Grand Prix and 29 first places in a Piano Solo category; 18 first places and 6 Grand Prix in Piano Duo category with my younger sister Klėja. I was born in Moscow in the family of Lithuanian diplomat, and later lived in Copenhagen (Denmark) for three years. Since 2018 live and study in Ukraine, Kyiv (at PSI — Pechersk International School and V. Kosenko Music School, pedagogue Viktoria Diubenko). I played with 6 symphony and chamber orchestras in Lithuania, Latvia, and Ukraine (conductors R.Šumila,
M.Bergs, V.Redya, M.Lysenko, M.Barkauskas, T.Ambrozaitis). Participated in recognized international music festivals: "M.K.Čiurlionis" and "World voices" in Palanga, St. George's art season in Marijampolė, Kaunas Festival of Young Performers in Kaunas Philharmonic (2017), «Janvarskie
muzykalnye večera» (January's musical evenings) in Brest (2020), Belarus, performed at the Royal Palace in Warsaw. I am also a winner of 5 Ukrainian solfeggio Olympiads. Participated in two Christmas charity projects under the auspices of wife of the President of Lithuania Mr. Gitanas
Nausėda, the first Lithuanian lady Mrs. Diana Nausėdienė and the Mayor of Vilnius city Mr. Remigijus Šimašius. Since 2018 I am cooperating with the Foundation of the President of Ukraine Leonid Kuchma, regularly perform in the concerts. For high artistic achievements, I was awarded the Letter
of Honours of the President of Ukraine. In 2020 and 2021 twice became the winner of the scholarship of the Mayor of Kyiv city V.Klychko.
Program:
F.Liszt. Concert etude "Gnomenreigen"
J.S.Bach. Prelude and Fugue A flat major, WTC1, BWV 862;
A.Remesa. "Stigmatas" (suffering of Jesus);
S.Prokofiev. Prelude "Harp"