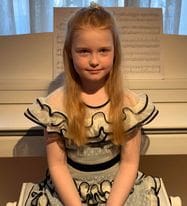 Participant No. 1. Professional category
Lidija Ramanauskaitė. Lithuania, Vilnius
Nationality: Lihuanian
Age: 7 years
Country/State/City: Lithuania, Vilnius
Music School: Suzuki Akademy
Professor: Lina Kašauskienė
How long have you been playing/from what age: Started to play from 3 years old as Suzuki student.
Biografy:
Lidija started to play from 3 years old. Now she is studying Piano Book three from Suzuki repertoire, which includes well known classical pieces of different ages. Last year Lidija participated at PianoArt 2020 piano contest in "Amateur" category and won prize "Надежда".
Lidija is good at dance, math and really likes to play piano.

Repertoire:
Christian Petzold "Minuet in G Major" (from J. S. Bach's notebook for Anna Magdalena Bach)
1:55 min
Ludwig van Bethoven "Sonatina in G major" (Romance) 2:04 min
Robert Shuman "Melody" Op.68, Nr.1 1:23 min
Carl Czerny"Allegretto 2" 0:56 min