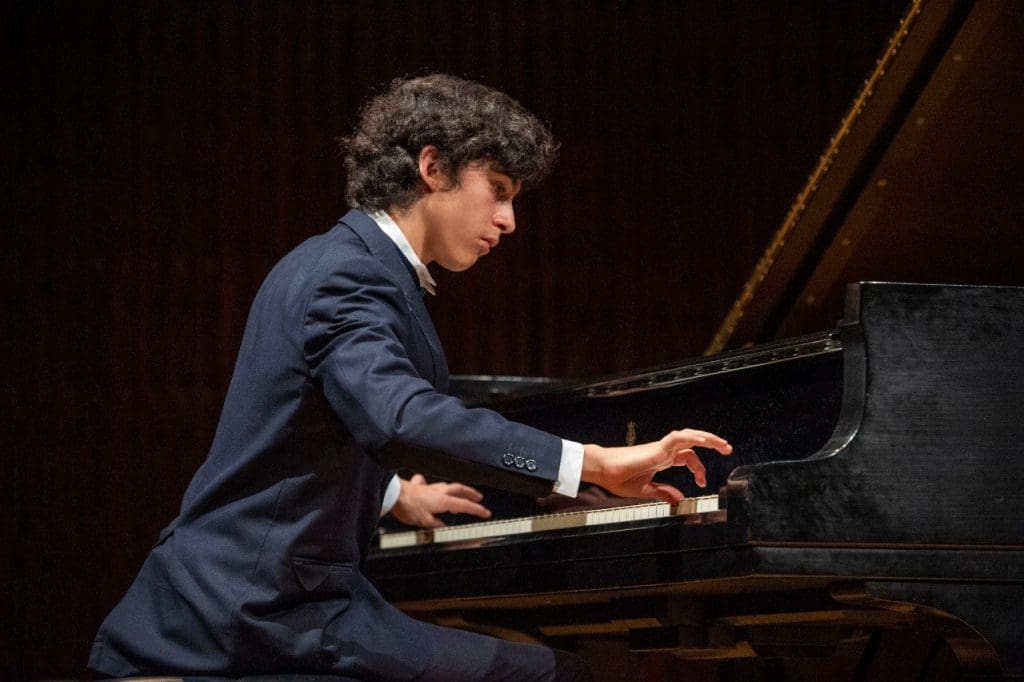 Participant No. 13 Professional category
Luis Villa Roa. Mexico City, Mexico
Nationality: Mexican
Age: 18
Country/State/City: Mexico City, Mexico
Music School ( if applicable ): Interlochen Arts Academy
Professor's list ( if applicable ): Dr. Michael Coonrod, Dr. Anatoly Zatin
How long have you been playing piano/from what age: I have been playing for 9 years
Biography:
Born in Mexico, Luis showed passion, musicality and sensitivity for music at a very early age. Luis possesses a bright artistic personality and a musical maturity uncommon to his age, which has given him recognition from the public.
His accomplishments as pianist include several top prizes at national and international competitions: first prize at the Russian Music Festival and Competition in Vancouver, First prize at the Parnassos National Competition and Cedros-UP-Yamaha national competition in Mexico, performances as soloist with various orchestras and participations at international music festivals in Canada, USA, Italy, Czech Republic, The
Netherlands, and China.
Luis has had the opportunity to learn in Master Classes with renowned pianists such as Guadalupe Parrondo, Eduardo Delgado, Tatiana Gerasimova, Boris Konovalov, Dmitry Rachmanov, Antonio Pompa-Baldi, Vadim Rudenko, Mikhail Voskresensky, Vlada Vassilieva and Anatoly Zatin.
In 2017, was selected to participate in a special piano program directed by Dr. Anatoly Zatin, at the National Conservatory of Music in Mexico City. In 2019, he was invited to participate at the International Piano Festival from Mexico University as a Young Talent. Luis is a person of many talents; his artistic nature is filled with the natural curiosity that makes him pursue
ever growing goals. During the Summer of 2017 he was recognized with "Honors" by "Center of the Talented Youth, CTY Johns Hopkins University" and was mentioned to be "one of the brightest students of the world"
among those that presented the SCAT exam that year, for being a top student among more than 27,000 students from 65 countries that participated at the Talent Search. Luis is currently a piano major at the Interlochen Arts Academy, studying with Dr. Michael Coonrod.
PRIZES
2013, 2017 -1st. Children's Piano Competition Cedros-Yamaha-UP — 1St. Prize at A Category and Winner of
Mandatory repertoire.
2014, 2015, 2018- National Piano Competition Parnassos, Monterrey, Mexico — 1st Prize
2014 — Forte International Competition, N.Y., — Gold Medal
2015 — CIPA, Colorado, USA — 2nd Price Junior Division
2017 — Vancouver International Festival of Russian Music, Vancouver, CA — 1st. Price at his category.
2017- International Piano Competition, Villahermosa, Mexico. — 3rd Price (virtual)
2017- The Carmel Klavier, Indianapolis, EU — 2nd Price Concerto Category and 3rd Price Soloist, Advanced A
Category.
2017- V National Piano Competition "Claudio Herrera" — 2nd Prize, A Category.
2018- 1st. International Piano Competition Cuervo-Petrof, Tequila, Jalisco — 1st Prize ex aequo Intermediate
Level.
2018- Laureate 1st. degree, International Competition "World of Talents", Moscow, Russia (virtual).
2016 y 2017 — Distance competition Arkhangelsk Music College. — III Prize Music Theory
2018- 1st. International Summer Festival Petrof Fest 2018, Hradec Králové, Czech Republic — Honorable
Mention.
2019- Tchaikovsky Memorial Prize and International Youth Piano Competition, Shanghai, China — 2nd Place
2019- MTNA Michigan Piano Competition — State Winner
2020- Enkor International Competition — 2nd Place
2021- Young Musician International Competition "Citta di Barletta" — 1st Place
Name and duration of every piace:
Rachmaninoff Etude-Tableau Op. 39 No. 1 (3:20)
Chopin Ballade Op. 52 No. 4 (10:50)